UAP Photography Club arranged "Moment of My Presence II: An Inter Dept. Photography Competition"
UAP Photography Club organized an Inter Department Photography Competition and Exhibition titled "Moment of My Presence II" from 10-11 February 2020 at UAP central Plaza.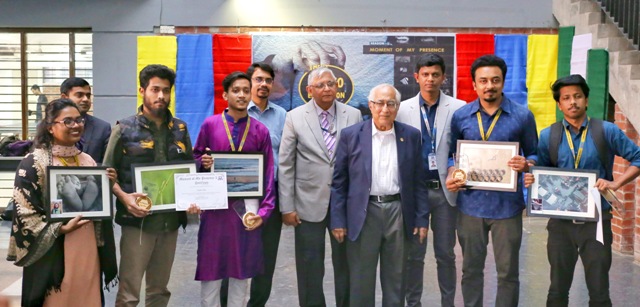 The exhibition was inaugurated by Prof. M. R. Kabir, Honorable Pro Vice Chancellor of University of Asia Pacific. Among others Air Cdre. Ishfaq Ilahi Choudhury (Retd.), Director, DSW and Prof. Dr. Abu Sayeed M Ahmed, Dean, School of Environmental Science and Design were present. Honorable judge of the photography competition was Mr. Enam Ul Haque, prominent bird photographer, mountain explorer, nature conservationist and founder of Bangladesh Bird Club. National Prof. Dr. Jamilur Reza Choudhury, Honorable Vice Chancellor distributed crest and certificate among the best five photographers of the competition and also ended the program.
More than 300 photographs were submitted from students and faculty members. 5 students namely Mahamudul Hasan Topu, Tanjinur Taj and Md. Mehraj Hossain from the Department of Pharmacy, Nayeem Uddin from the Department of Architecture, and Mirazul Islam from the Department of Electrical and Electronic Engineering were awarded as the best photographer out of 50 short listed photographs.