Film Making Competition Titled 'Film Festival against Corruption' at UAP
UAP Film Club and UAP Youth Engagement and Support (YES) jointly completed a short-filmmaking competition titled 'Film Festival against Corruption' through awarding three best films through a prize giving ceremony from 5:00 pm to 7:00 pm on October 19, 2022, at the UAP Auditorium. The festival showcased nine (9) short films directed and acted by the students of UAP. The event was co-sponsored by Transparency International Bangladesh (TIB). More than 250 students from different departments of UAP enjoyed the program.
Mr. Takad Ahmed Chowdhury, Director, DSW, and Mr. Syed Ahmed Shawki Shawki, Director and Story Writer attended the program as the Chief Guest and Special Guest, respectively, while Prof. Dr. Fahmida Akhter, Department of Drama and Dramatics, Jahangirnagar University and Mr. Mohsin-Ul-Hakim, a renowned journalist and Special Reporter, Jamuna TV attended the program as Judges.
The theme of the film competition was 'Film Festival against Corruption,' and all the short films were related to different perspectives on Anti-Corruption.
Mr. Takad Ahmed Chowdhury, Director, DSW formally welcomed the guests, faculty members, students and the audience to the event and thanked everyone for the support. The Special Guest of the program renowned film maker Syed Ahmed Shawki said that filmmaking is a pure form of art that can be learned if a person has passion and the right mindset to keep trying. All the selected films were displayed. Afterward, all the Judges evaluated the films in their speeches and guided on different aspects of filmmaking.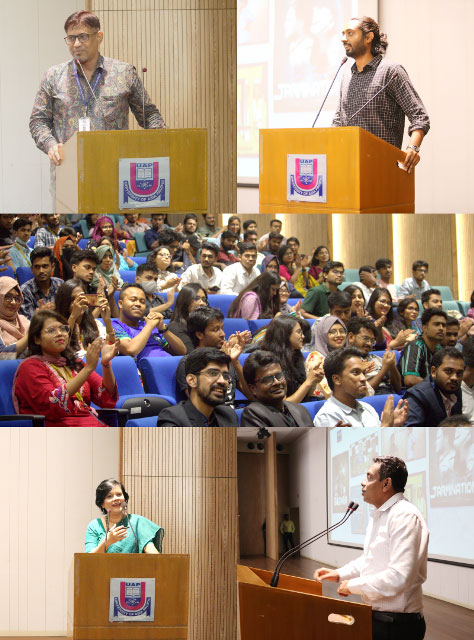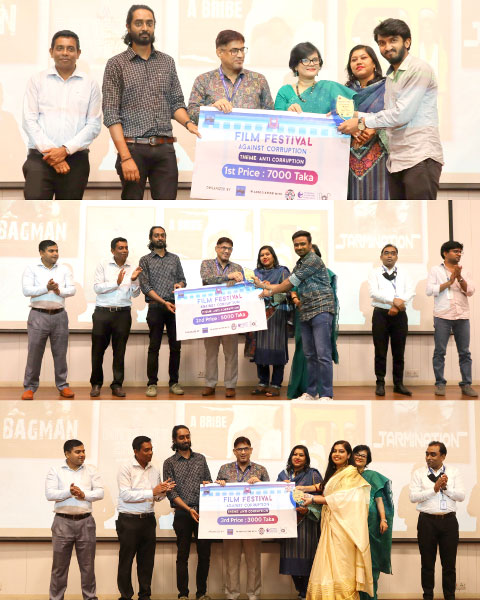 The following films were awarded: Winner: BAGMAN
Director: M.R Zihad
Cast: Prince Mahmood, Arif Hossain, Hasiqul Islam, Khalid Rahman Mridul, Mushfiqur Rahim Mahim
Story: M.R. Zihad
Edit & Color, Cinematography: M.R. Zihad
Management: Nasiqul Islam Khalid Rahman Mridul

1st Runner-Up: Ghughu O Faad
Director: Mir Ibrahim
Editor: Mir Ibrahim
Story Writer: Kazi Mehedi Hasan Joy
Cinematographer: Mir Ibrahim
Actor: Shahi Nur, SI Sohan, Sabiha Sabrin, Fouzia Nasrin Sauda, Srabon Ahmed, Kazi Mehedi Hasan Joy

2nd Runner-Up: The Bribe
Director: Anindita Sarker