EEE Freshers' Reception and Film Festival
With great fervor and enthusiasm, on 31st January 2023, the Department of Electrical & Electronic Engineering, UAP, organized a colorful "EEE Freshers' Reception and Film Festival" program in the central auditorium for the newly admitted undergraduate students. Dr. G. R. Ahmed Jamal, Associate Professor and Head, Department of EEE, was present as the chief guest of the function.
The program was initiated with a presentation in the title of "A short journey in the department of EEE" from Jamil Saqlain (a student of 3rd year 1st semester). Later on, Professor Dr. Enamul Basher and Professor Dr. Tapan Kumar Chakraborty, Department of EEE, delivered a short encouraging speech to the students.
One of the new-comers expressed his deep feelings, sharing his great experience of the last three weeks of classes after the joining in EEE and gratitude to the department — on behalf of the new students.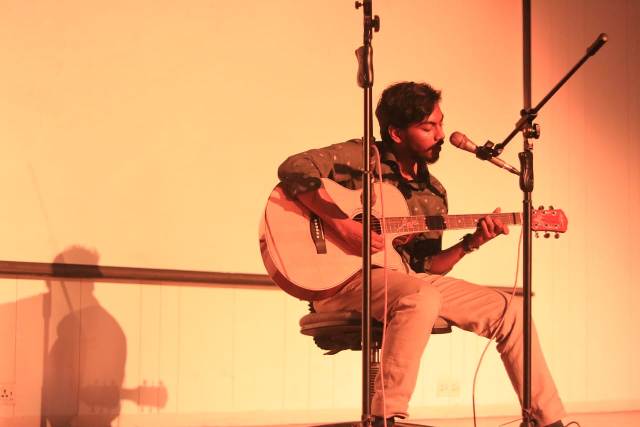 The most exciting part was the great motivation from the notable alumnus of EEE - Mr. Fahim Mahmud (5th Batch, EEE; Country Representative, Fourth Partner Energy & Former Manager, On Grid, Rahimafrooz Renewable energy Ltd.). shared a motivational real life experience and challenges of his personal job career which created a sense of huge impulses to the newbie's and was hugely appreciated by a round of applause from the audience.
The ceremony concluded with a deep insightful speech from the Head, Dr. G. R. Ahmed Jamal, and department of EEE and thus ended up the first part of the program.
In the second part of the program, the fresher's event was followed by a list of amazing arrangements of drama, dance, vocal song, video display etc where newcomers experience a dazzling evening by the mesmerizing performances of the participants of cultural club members. The relentless and collective effort of the students and convener of the cultural club made the event a memorable one.
This program was coordinated by Md. Moshiur Rahman Sourov (Convener, Cultural Club & Assistant Professor, EEE) and Md. Masum Howlader (Member University Branding committee and Assistant Professor, EEE).