Seminar on "Model Pharmacy: A New Dimension to Pharmacy Profession" Organized by Department of Pharmacy
The Department of Pharmacy of University of Asia Pacific organized a seminar titled "Model Pharmacy: A New Dimension to Pharmacy Profession" on 30th March, 2023 at 3.00 PM in Room- 414.
Mr. Shafiqur Rahman Zico, Senior Manager - Business Development in United Pharma and Healthcare Limited, was present as the guest speaker of the seminar. Dean, School of Medicine, Professor Dr. Mohiuddin Ahmed Bhuiyan, Professor Dr. Irin Dewan, Head, Department of Pharmacy, Professor Dr. SM Ashraful Islam and other faculty members also joined the program.
Professor Dr. Irin Dewan, Head of the Department of Pharmacy, started the program by handing over a flower bouquet to the guest as a token of appreciation. In her speech, she thanked the guest speaker, Mr. Shafiqur Rahman Zico for his willingness to conduct the seminar amongst his busy schedule. She also thanked Ms. Nishat Jahan, Convener, Ms. Ramisa Anjum and all the members of the Seminar Organizing Committee for organizing this event, and all the faculty members and students for their enthusiastic participation. Professor Dr. Ashraful Islam gave a speech where he mentioned about the necessity of Model Pharmacy and its association towards public health and need of pharmacists in such sector.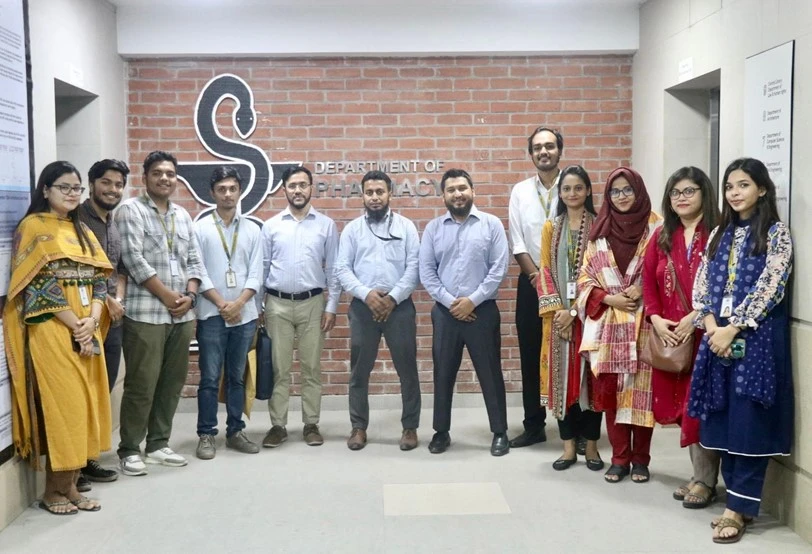 Mr. Shafiqur Rahman Zico provided a comprehensive overview of how model pharmacy works, the challenges in implementing model pharmacy, its management, benefits to public health, and the career opportunities related to Model Pharmacy in Bangladesh. This was then followed by an interactive question and answer session. The program was moderated by Ms. Ramisa Anjum, Lecturer. The seminar concluded with a fun and engaging quiz session where students were given presents. Mr. Shafiqur Rahman Zico also conducted a written quiz session and promised that the student with the best write-up will be awarded a present from Wellbeing Pharmacy. All participating students were also given a certificate of participation.