DSW organized a workshop on Personal Development and Career Guidelines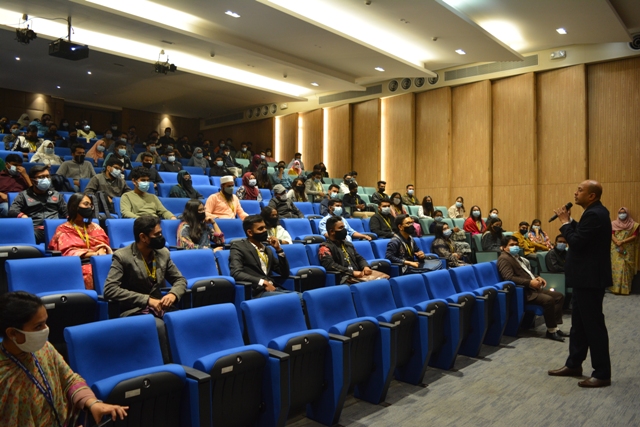 On 20 January 2022, DSW in association with WSDA New Zealand organized a workshop titled "Personal Development and Career Guidelines" at UAP Auditorium for the students and recent graduates of UAP. The workshop took place two times- session 1 started at 12 PM and session 2 at 3:30 PM. Each session was 1.5 hrs. long, and maintained COVID-19 health protocols. Mr. Ahmed Bari, a renowned life coach and Vice President of Workplace Skills Development Academy (WSDA) New Zealand was the resource person while Air Cdre (Retd.) Ishfaq Ilahi Choudhury, Treasurer and Director, DSW attended the program as the Chief Guest.
In the welcome speech, Mr. Md. Tarek Khan, AD, DSW said that DSW regularly organizes career-related workshops, seminars/webinars and co-curricular activities to provide a platform to the students and alumni of UAP for personal and professional development. DSW helps them to hone the required skill-sets for the changed realities of the 21st century and also make campus life colorful. He inspired the participants to participate in DSW events work on personal development and choose the right career path based on their passion, aptitude and market analysis. The Chief Guest of the program Air Cdre (retd.) Ishfaq Ilahi Choudhury said in his speech that after almost 2 years of COVID-19 situations, DSW is organizing this event at UAP campus. He briefed that even during the COVID-19, DSW regularly organized different career-related programs. He encouraged the participants to ask questions to the resource person, learn and apply the learning to daily life. Mr. Choudhury said that the UAP authority has always extended its hands for the self-development, career development and psychological development of the students. He also thanked WSDA New Zealand and the students for making the event successful.
Mr. Ahmed Bari, the resource person of the event started the main workshop with some interactive drills and demonstrations to depict the reality of the job market and dispositions of the students towards it. Mr. Bari used many tools and engaged the participants to feel how social constructions work as hindrances to set the goals and achieve them. He shared some of his cases of failures and successes to inspire the participants. Mr. Bari talked about the power of co-curricular activities and motivated the students to get involved in 1-2 club(s) at the university level. Approximately 300 students and recent graduates from different departments participated in two sessions.
Entrepreneurship and Career Development Club (ECDC) was the club partner of the event. Mr. Shajedur Rahman Shawn, Student, DBA and President, ECDC ended the workshop with a vote of thanks.