Prof. Dr Abu Sayeed Mostaque Ahmed wins 'The Award of Merit' in UNESCO Asia-Pacific Awards 2021
Prof. Dr Abu Sayeed Mostaque Ahmed, Dean, School of Environmental Science & Design, UAP wins 'The Award of Merit' in UNESCO Asia-Pacific Awards 2021 Cycle for Cultural Heritage Conservation for his project, "Doleshwar Hanafia Jame Mosque, Dhaka, Bangladesh". The announcement was made through a zoom meeting on 1st December, 2021.
In the cycle of 2021 UNESCO Asia-Pacific Awards, 9 award-winning projects from 6 different countries (Bangladesh, China, India, Japan, Malaysia, and Thailand) across the region have been selected for their outstanding achievements in Cultural Heritage Conservation. Since 2000, the UNESCO Asia-Pacific Awards for Cultural Heritage Conservation program has been recognizing the efforts of private individuals and organizations in restoring, conserving, and transforming structures and buildings of distinct heritage value in the region.
The jury board cited that "the restoration of the Doleshwar Hanafia Jame Mosque on the outskirts of Dhaka sets a welcome precedent for privately-supported restoration and valorizes heritage in a historic village context. Dating to the 19th century, the mosque had suffered from burgeoning pressures from the growing population as well as inappropriate repairs that had compromised the authenticity of the historic architecture.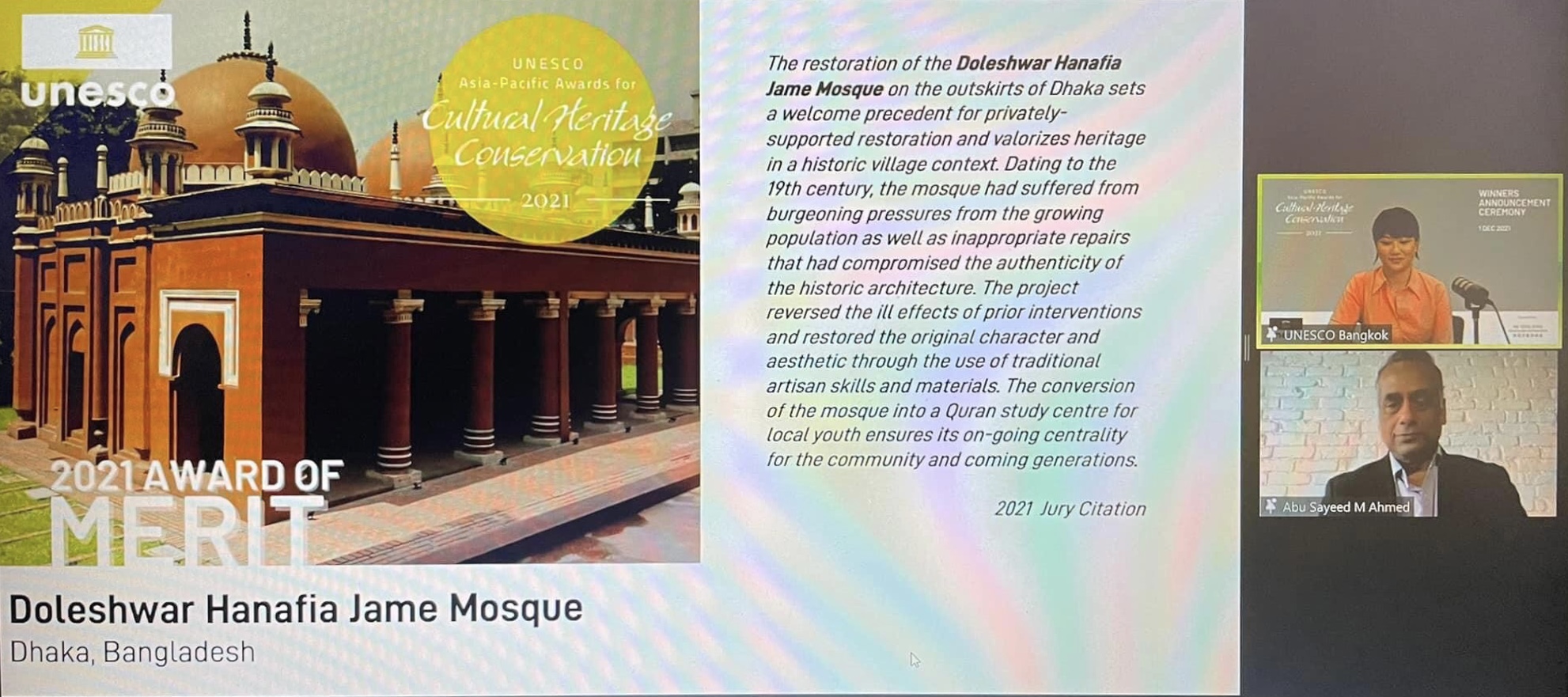 The project reversed the ill effects of prior interventions and restored the original character and aesthetic through the use of traditional artisan skills and materials. The conversion of the mosque into a Quran study centre for local youth ensures its ongoing centrality for the community and coming generations".