UAP students completed the 21st Century's Core Employability Skills Program offered by Wadhwani Foundation
On 27 March 2021, 14 students from UAP attended the first-ever international online graduation ceremony on 21st Century's Core Employability Skills jointly organized by Wadhwani Foundation Bangladesh and Philippines. It was a 1-hour long program where distinguished speakers from Bangladesh, India and the Philippines attended along with 250 students from Bangladesh and the Philippines who received their skills scorecards and certificates.
In the Graduating Ceremony Air Cdre (retd.) Ishfaq Ilahi Choudhury, Treasurer and Director, DSW attended the program as a guest along with Mr. Sami Ahmed, LICT Project, Policy Adviser, Ministry of ICT, Bangladesh; Dr Frank D Alejandrino, AVP, Technological Institute of the Philippines and Mr. Sunil Dahiya, EVP, Wadhwani Opportunity, Wadhwani Foundation.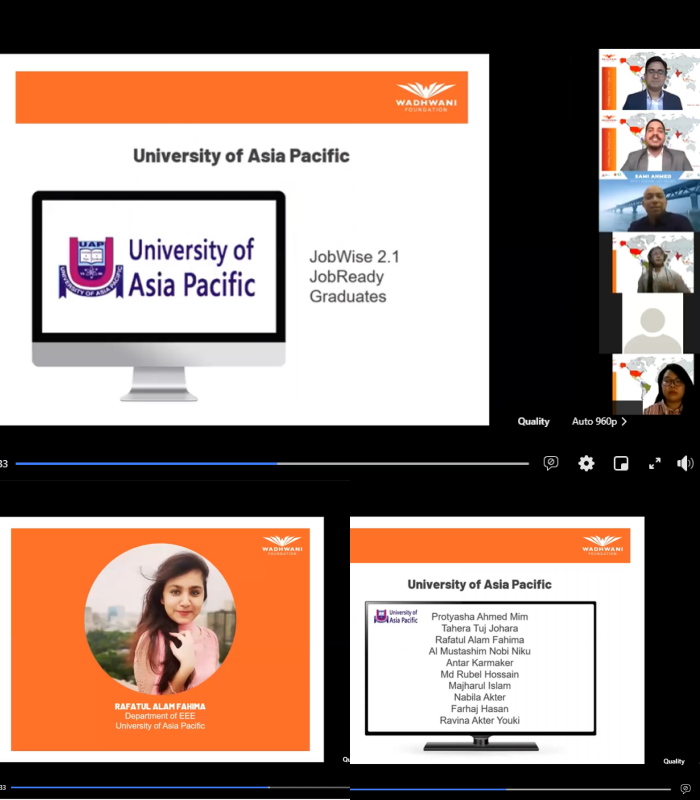 Rafatul Alam Fahim, one of the students from the Department of EEE, UAP who completed the program, delivered a speech on behalf of the graduating students from Bangladesh. She appreciated UAP for providing this great course to its students and sincerely acknowledged the continuous support and mentorship provided by the facilitators from UAP and Wadhwani Foundation- Bangladesh to complete the program.
It is to be noted that on 18 November 2019, UAP signed a skill development association MOU with USA based Wadhwani Foundation, philanthropic career development and entrepreneurial related service provider, to improve the soft skill set of UAP students and making them employment-ready for the growing economy of Bangladesh. Till now, UAP students from the 1st batch have been graduated and the 2nd batch with 101 enrolled students is in-progress.
In the graduating ceremony, Mr. Md. Tarek Khan, AD, DSW and Mst. Farjana Yasmin, Socio Counselor, UAP were attended as the faculty members in that skill-development course of UAP chapter, among others.