UAP celebrated World Mental Health Day, 2021
The World Health Organization recognizes World Mental Health Day on 10th October every year. This year's theme set by the WFMH is "Mental Health in an Unequal World".
Social Counselling Centre of University of Asia Pacific organized an online Open Discussion Session to celebrate this day on 10th October, 2021 at 7.00PM.
Ms. Zohora Parveen, a Clinical Psychologist from University of Dhaka was present as a resource person at the discussion session. This program was presided by Air Cdre (Retd.) Ishfaq Ilahi Choudhury, Treasurer and Director of DSW, UAP and coordinated by Mst. Farjana Yasmin, Socio Counsellor, UAP.
At the beginning of the program, Mst. Farjana Yasmin briefed about World Mental Health Day, 2021 and its theme with objectives. Then she highlighted UAP's working area in the purpose of improving sound Mental Health.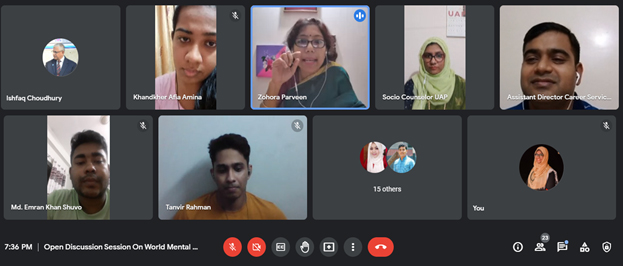 Air Cdre (Retd.) Ishfaq Ilahi Choudhury, Treasurer and Director of DSW discussed about the importance of sound mental health and the development of this sector in Bangladesh.
Mr. Tarek Khan, Assistant Director of DSW said that an equilibrium between mental health and physical health is essential to remain fit functionally.
Ms. Zohora Parveen focused on different mental health problem and associating superordinate & subordinate response. She facilitated to make functional response chain with the students. Then she discussed about some management techniques like grounding, living in here and now, social resource enhancement and relationship improvement.
The participants were actively engaged and participated spontaneously throughout the session. They gave very positive feedback and shared their learning from the session. They expressed that it was very helpful for them.