Seminar on "Bangladesh National Building Code for Electrical Engineers" held at UAP by Dept. of EEE
A very informative and interactive seminar titled "Bangladesh National Building Code for Electrical Engineers" from the series of 'Industrial Talk' was jointly organized by UAP EEE Project Club and IEEE UAP Student Branch on 8th February, 2023 in the DBA seminar room (Room 403 Annex Building).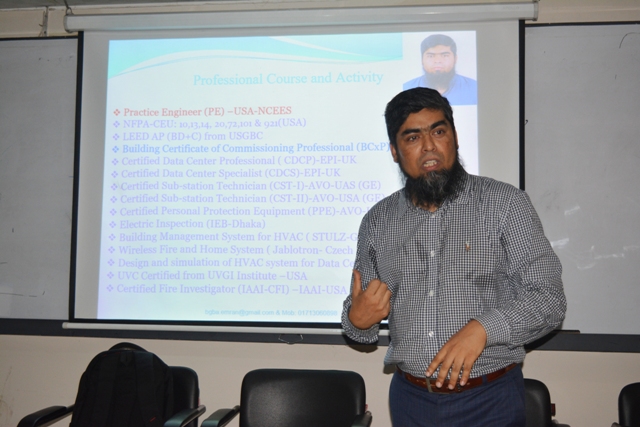 The seminar was conducted by AL-Emran Hossain, President of Bangladesh Green Building Academy and Secretary of ASHRAE Bangladesh Chapter.
The seminar began with an opening speech by Dr. G. R. Ahmed Jamal, Head of the Department of EEE, wherein he explained the importance of the event for the students. Following this, Al-Emran Hossain gave a brief overview of professional activities and courses, formation, minimum experiences required in years for building category for electrical design, load estimate for different fittings, wiring, and code slandered about BNBC.
Prof. DR. Qumrul Ahsan, Vice Chancellor, University of Asia Pacific (UAP) was present during the seminar along with Professor Dr. Enamul Bashar, Professor Dr. Tapan Kumar Chakraborty, Associate Professor A.H.M. Zadidul Karim, Md Khairul Alam - Assistant Professor and convener of UAP EEE Project Club, Mirza Mursalin Iqbal- Assistant Professor and counselor of IEEE UAP Student branch and other faculty members from the department of EEE.
At the end of the seminar, the Vice Chancellor and other senior faculties presented a token of appreciation to Mr. AL-Emran Hossain for conducting the seminar.