Directorate of Students' Welfare organized Club Fair, Spring 2022
The Directorate of Students' Welfare (DSW), University of Asia Pacific (UAP) organized a day-long Club Fair, Spring 2022 at UAP Plaza on August 11, 2022. The fair aimed to attract and encourage the newly admitted students to join club activities of their choice and enliven their university life.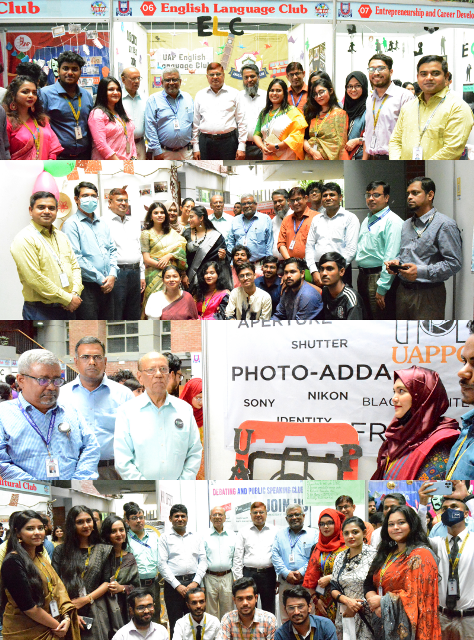 Fifteen Central clubs of the university exhibited their accomplishments and activities before the newly admitted students and arrived guests. Dr. M. Alauddin, Chairman, UAP Board of Trustees, and Professor Dr. Qumrul Ahsan, Vice Chancellor jointly inaugurated the fair, while Professor Dr. Md. Sultan Mahmud, Pro-Vice-Chancellor was present as the special guest.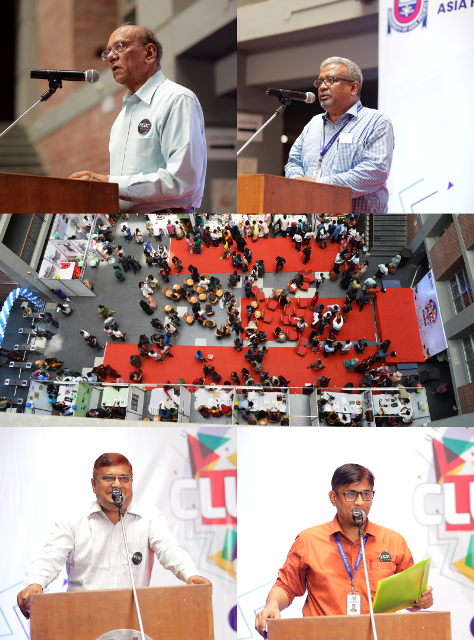 The honored guests and participants of the fair were welcomed to the inaugural ceremony by Mr. Takad Ahmed Chowdhury, Director, DSW, UAP. Expressing his happiness to see a good number of audience and their contagious enthusiasm, Mr. Chowdhury stated that DSW hosts this student extracurricular fair over a whole day at the beginning of the semester for the students, especially for the freshers to figure out which club to get involved with. He also noted that club fair is a team effort that involves the DSW staff, club advisors who patiently work for the clubs on top of their teaching and other academic commitments, and our talented and motivated students.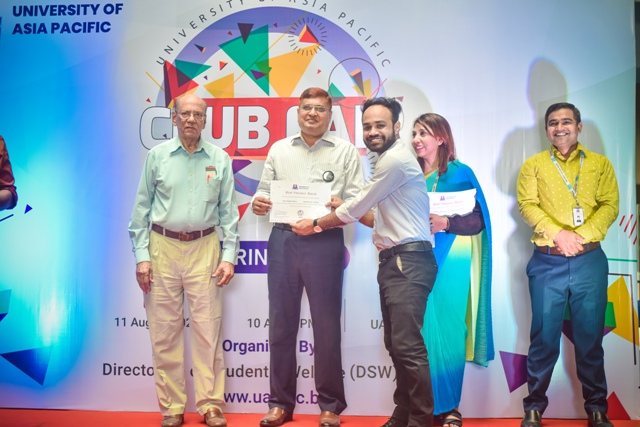 The Chief Guest of the fair, Dr. M. Alauddin expressed his appreciation to the organizers for wonderfully organizing the fair. He also assured of his support in all kinds of co-curricular activities for the benefit of the students. In his speech, UAP Vice Chancellor inspired the students to get involved in co-curricular activities besides their regular academic commitments. He said that the DSW is an important platform where you can hone your necessary skillsets for the job market. He also appreciated the DSW for organizing the beautiful event. The Pro-Vice-Chancellor also thanked everyone involved in holding a beautiful club fair and hoped that a greater number of students would join in various clubs to flourish their talents. Thousands of enthusiastic students came to visit and chose the clubs of their interest during the day-long fair.
Best volunteer certificates were also awarded to forty-seven committed and enthusiastic volunteers for their voluntary services in organizing various co-curricular activities of the university.
The fair was concluded by the honorable Vice Chancellor through announcement of the best performing stalls based on their overall performance throughout the day including stall decoration and service to the visitors. The stall of UAP History and Heritage Club was recognized as the best stall while the stalls by Social Awareness Club and Cultural Club came in second and third place, respectively.