UAP Cyber Space team placed 1st Runner-up position in the competition of "University Cyberdrill 2022"
A team named "UAP Cyber Space" from the Department of Computer Science and Engineering (CSE), University of Asia Pacific (UAP) placed 1st runner-up position in "University Cyberdrill 2022"competition. The other participating teams from the university also secured prestigious positions e.g. 10th, 15th, 21st, and 36th respectively.
The ICT Ministry along with support of Bangladesh Computer Council and e-gov CIRT hosting this prestigious national cyber security competition this year where 58 teams from different public and private universities took part in the completion. In the National Cyber Security Index, Bangladesh tops the SAARC nations (NCSI). Bangladesh's cyber security capabilities are getting better every day. The Ministry of ICT organizes cyber drills each year in the hopes that this type of university competition will assist Bangladesh in producing security.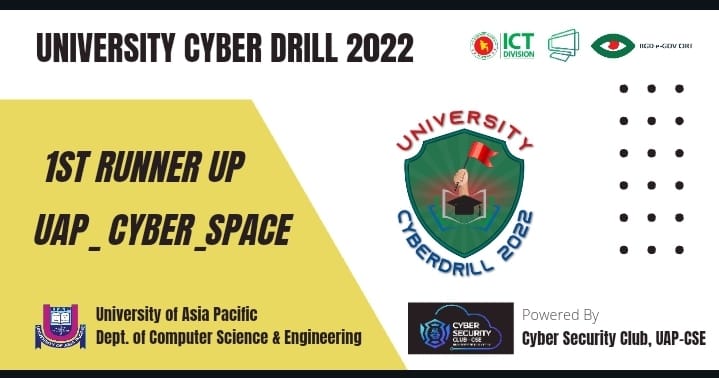 The Cyber Security Club is a new club of the department which is mentored and convened by Dr. Muhammad Towfiqur Rahman, Assistant Professor, CSE. It is worthy mentioned that after taking several initiatives from the last two semesters, students have been able to bring out such accolades for the first time for this university. The winning members of the team are; Md. Asadujjaman Noor, Shandiqul Hasan Khan Janny, and Md Shahariar Prangon.