Inter-departmental Debate Competition on 'Think Covid-19'
The Directorate of Students' Welfare (DSW), in collaboration with the Debating and Public Speaking Club of the University of Asia Pacific (UAP) completed the first round and semi-final round of the Inter-departmental Debate Competition on the theme of 'Think Covid-19' on September 13, 2022. Teams from all the eight departments of the university participated in the exciting competition which was enjoyed and encouraged by a capacity audience at the UAP auditorium.
All the topics for the competition were centered around the deep-seated impact of COVID-19 pandemic on our society, economy, health and educational system. There is no question that the Covid-19 pandemic has been a social, economic and educational crisis just as much as it is a health one, with severe and far-reaching effects that will continue to be felt across the world. While debating for or against the motions, the debaters kept each session vibrant and engaging by explaining key terms, presenting relevant facts and figures, and using their weapons of subtle arguments.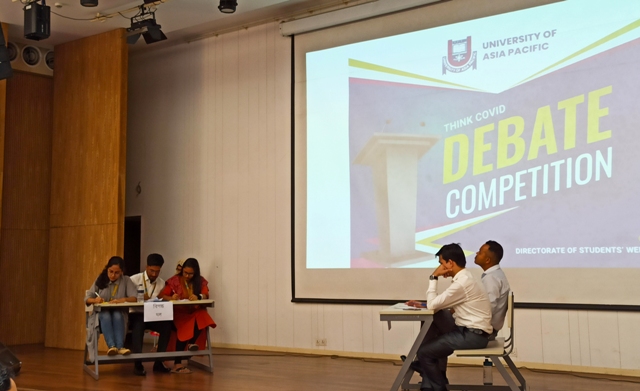 Teams from four departments, namely English, Electrical and Electronic Engineering, Architecture, and Law and Human Rights advanced to the semifinal round of the competition after the first round, while the two semifinals were won by the English and Architecture departments respectively. The schedule for the final will be announced soon.
It may be noted that this debate program with the theme of 'Think Covid-19', is part of a series of co-curricular activities launched in the previous semester, which awaits to be concluded through a formal ceremony soon.