Opening Ceremony of ICPC World Finals Dhaka held
DHAKA, 8 November 2022: The opening ceremony of the most prestigious international contest for solving computer programming problems for university level students the "International Collegiate Programming Contest (ICPC) World Finals Dhaka" was held on 8 November 2022, Tuesday at the International Convention City Bashundhara (ICCB) located in Bashundhara, Dhaka.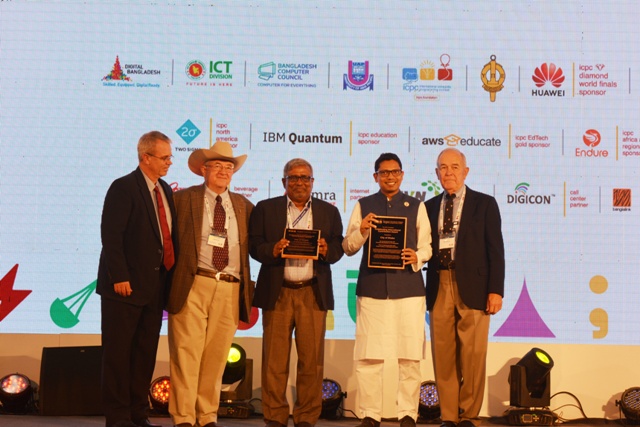 Honorable Minister for the Ministry of Foreign Affairs of the Government of the People's Republic of Bangladesh Dr. A. K. Abdul Momen MP graced the occasion as the Chief Guest. The honorable State Minister for the ICT Division of Bangladesh Mr. Zunaid Ahmed Palak MP was present as a Special Guest at the program. The President of the ICPC Foundation & ICPC Executive Director Dr. William B. Poucher was also present as the Guest of Honor at the opening ceremony.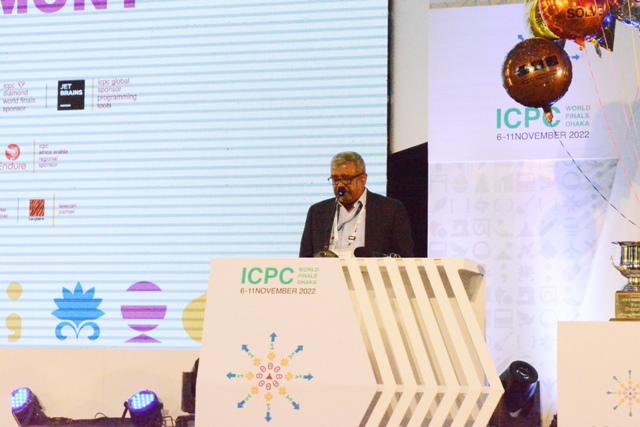 The Deputy Executive Director of ICPC & ICPC Director of World Finals Contests Dr. Michael J. Donahoo, the Senior Secretary of ICT Division Mr. N M Zeaul Alam PAA, the Vice-Chancellor of UAP & Director of ICPC World Finals Dhaka Prof. Dr. Qumrul Ahsan and the Executive Director of Bangladesh Computer Council (BCC) Mr. Ranajit Kumar were also present at the event.
The opening ceremony, attended by the local and foreign guests including contestants, featured three cultural performances: first, Celebration of Global Youth; second, The Convergence (Music of the World X AI); and third, Sound of the Nation.
At the opening ceremony, the ICPC Foundation presented plaques to commemorate the contributions of the hosts, coaches, sponsors, and Regional Contest Directors (RCDs). The Foundation, by presenting plaque, also honored late National Professor and Vice-Chancellor of University of Asia Pacific Professor Jamilur Reza Choudhury who pursued the dream of hosting the ICPC World Finals in Bangladesh. Late Prof. Jamilur Reza Choudhury's wife received the award.
The 45th ICPC World Finals will take place at the ICCB on 10 November 2022. 137 teams from across the world advanced to the 45th World Finals. More than 1000 people are in Dhaka to celebrate the competition, coming from 70 countries. The 45th edition of the ICPC World Finals is led by the ICT Division of Government of the People's Republic of Bangladesh where the Bangladesh Computer Council (BCC) of the ICT Division is acting as the executing agency and the University of Asia Pacific (UAP), Bangladesh is the host university of this contest.
During the opening ceremony, four faculty members of CSE Department of UAP and one Faculty member of the same department from BRAC University have received prestigious 'Outstanding International Contribution Award' from the ICPC Foundation. The names of awardees are Dr. Shah Murtaza Rashid Al Masud, Head of CSE and Deputy Director, ICPC World Finals Dhaka, Prof. Dr. Aloke kumar Saha, Asst. Prof. Akhtaruzzaman Adnan, Asst. Prof. Tanjina Helaly and Mr. Imran Bin Azad, Assistant Director, ICPC World Final Dhaka and Sr. Lecturer of BRAC University.