UAP Observes Independence Day 2023
The Directorate of Students' Welfare and Cultural Club jointly organized an event to mark the Independence Day of Bangladesh 2023 on March 30, 2023, from 1.30 pm to 3.30 pm at UAP Auditorium. The event was titled 'Itihash o Notun Projonmo'.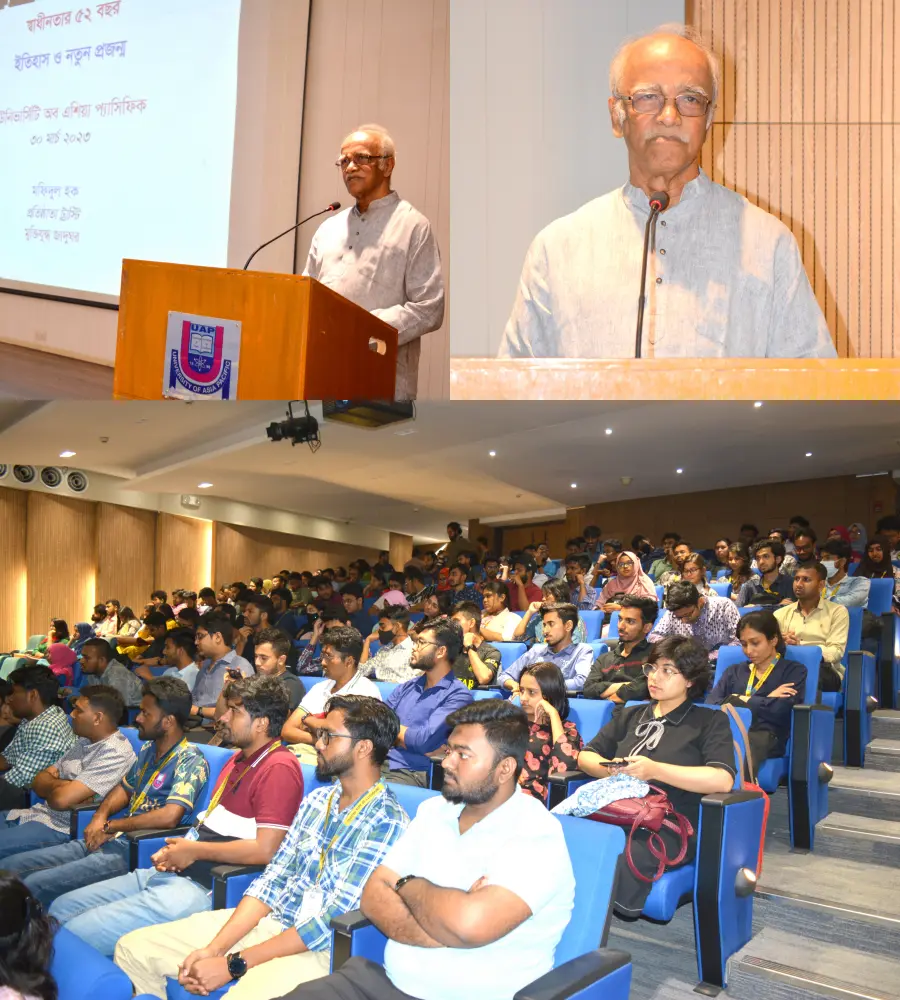 The program began with a welcome speech by Ms. Layeqa Bashir, Assistant Professor and Head, Department of Basic Science & Humanities and Adviser, Cultural Club.
Mr. Mofidul Hoque, a renowned Bangladeshi researcher, publisher and essayist and one of the founder trustees of the Bangladesh Liberation War Museum was the Keynote Speaker of the program. In his address, Mr. Hoque spellbindingly narrated different root causes and catalysts of the Liberation War of Bangladesh chronologically including socio-political, economical and geographical factors. He mentioned the need of disseminating correct information about the process and history of the establishment of Bangladesh as a sovereign country on the world map to the new generation.
The event was presided over by the Hon'ble Vice-Chancellor, UAP, Professor Dr. Qumrul Ahsan. In his speech, Professor Dr. Qumrul Ahsan thanked the Keynote Speaker for his time and effort to share the valuable speech on the liberation war of Bangladesh. Professor Dr. Qumrul Ahsan also thanked DSW and Cultural Club for organizing the event. Prof. Dr. Md. Sultan Mahmud, Hon'ble Pro Vice-Chancellor attended the event and addressed the audience as a Special Guest.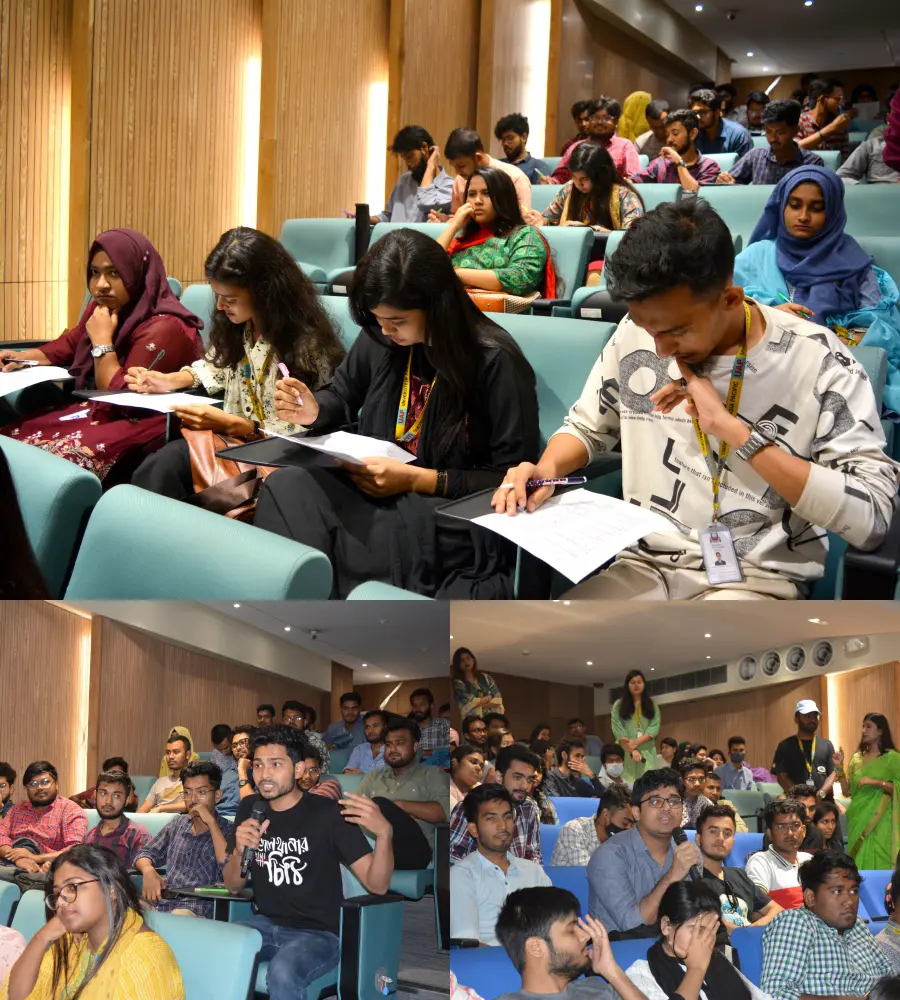 Before the main session, a quiz competition on the History and Heritage of Bangladesh was held at the auditorium where approx. 250 students participated. Jeba Fariha Alvi, Student, Dept. of L&HR, Md. Sayd Al-Merazul, Student, Dept. of L&HR and D.M. Rifat, Student, Dept. of BA placed 1st, 2nd and 3rd position in this competition. Prizes were distributed among the winners.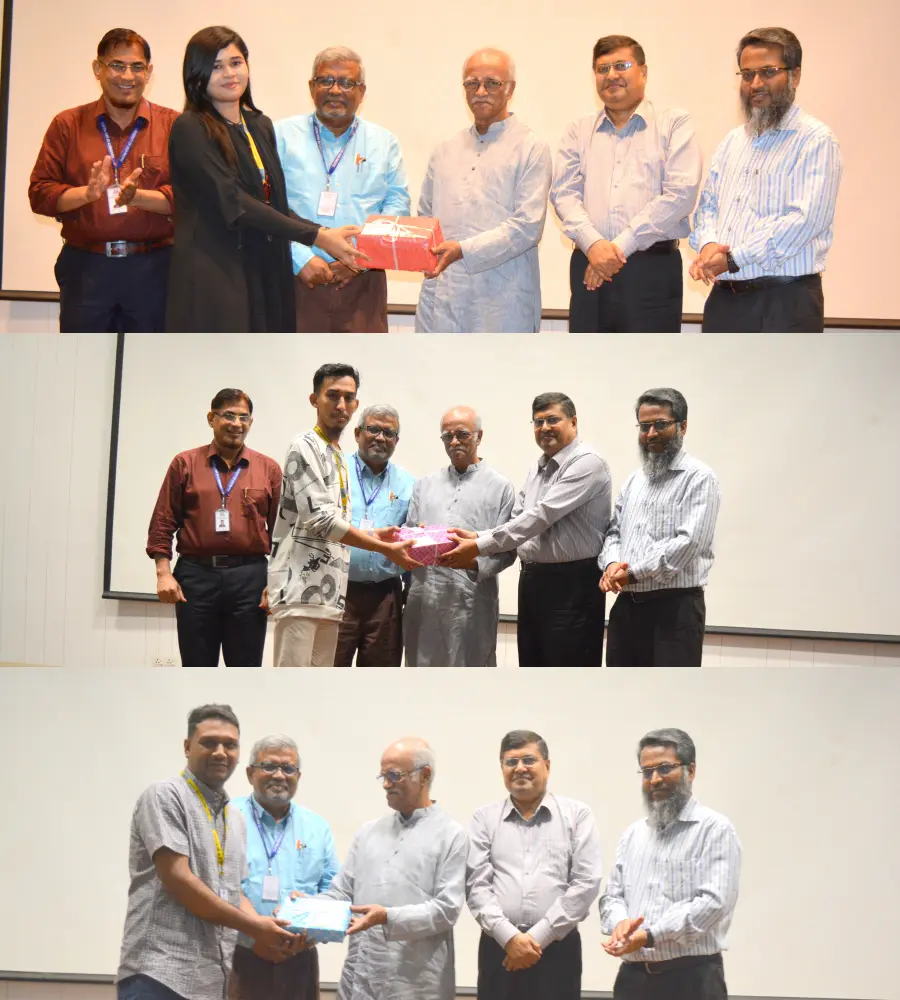 The program concluded with a hearty vote of thanks by Mr. Takad Ahmed Chowdhury, Associate Professor, Department of English and Director, DSW to the esteemed guests, faculty members and students who attended the program. He also expressed his sincere appreciation to the UAP staff and student volunteers, both of whom gave their all to make the event a success.