University of Asia Pacific participates in a webinar of The Daily Star
University of Asia Pacific (UAP) on 15th June 2021 participated in a webinar titled 'Campus Stars" organized by The Daily Star newspaper. The event was arranged with the aim of creating a platform where an alumnus and a current student can share their thoughts and experience on how UAP played a pivotal role in shaping and building their career.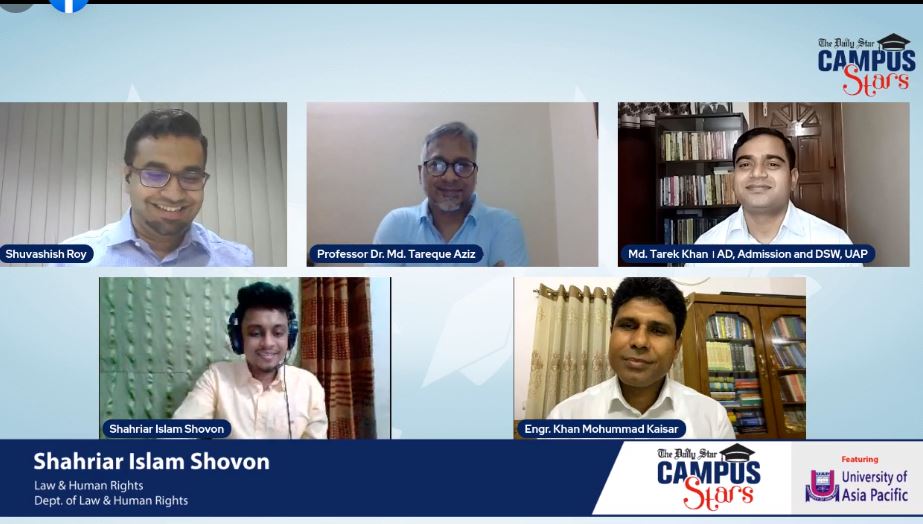 Engr. Khan Muhammad Kaisar, FCS, FIEB, Vice Chairman, Computer Engineering Division, The Institution of Engineers, Bangladesh, and President, UAP CSE Alumni Association, and Mr. Shahriar Islam Shovon, a fourth year student, Department of Law & Human Rights, UAP, participated in the event as guest speakers.
Mr. Shahriar Islam Shovon said that the UAP has a welcoming atmosphere, as our faculty members and leadership support us to sharpen our academic skills and critical thinking. "At the very first day of university, the faculty members inspire us to get involved with club activities which enhance our life skills", he added.
The event was also addressed by Mr. Muhammed Tareque Aziz, Ph.D, Professor of Relationship Marketing, Department of Business Administration and Convener, UAP Branding Committee, and Mr. Md. Tarek Khan, Assistant Director, Admission and Directorate of Students' Welfare (DSW), while the programme was hosted by Mr. Shuvashish Roy, Head of Business, The Daily Star.
The speakers at the event also emphasized on the importance of research that creates new dimension of learning and UAP is providing the best research facilities to its faculty members and students, which was reflected recently in the SCImago ranking where UAP secured the 5th position among the private universities of Bangladesh.