UAPLPC holds Freshers' Reception for Law Students
The 'Fresher Reception-Spring 2021' was held on July 17 July 2021 for the law students of batch-32. The reception was organized by the UAP Law Photography Club (UAPLPC).
The Head of the Department of Law and Human Rights, University of Asia Pacific, Dr.Chowdhury Ishraq Ahmed Siddiky, delivered his speech as the honorable Chief Guest. At the very beginning of his speech, he cordially welcomed all the newly admitted students to the Department of Law and Human Rights of the University of Asia Pacific. He mentioned that, "Photography is an art, and students who have a passion for photography may learn it.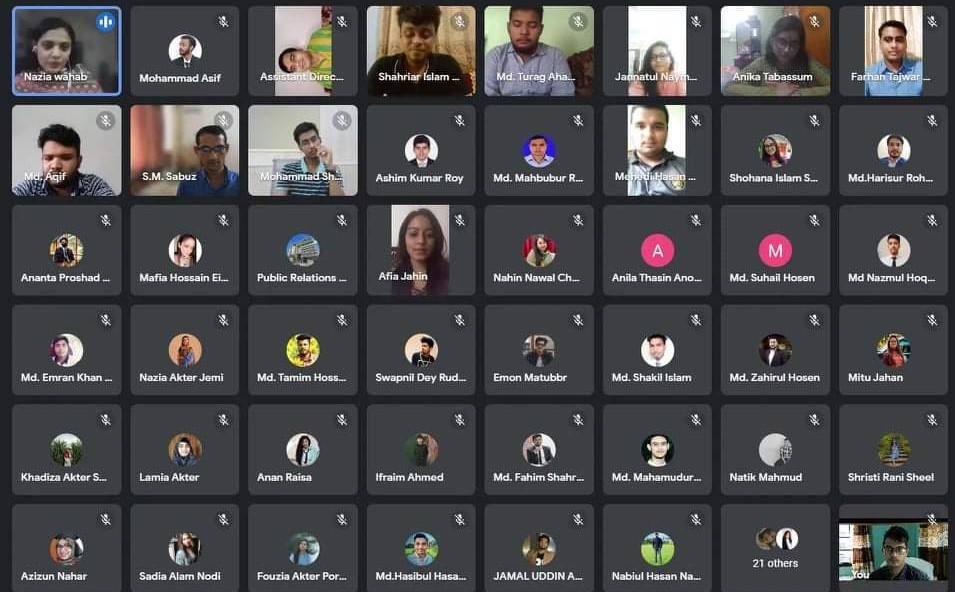 Ms.NaziaWahab, Assistant Professor and Convener of UAPLPC, was the special guest. She said that UAPLPC is one of the most prestigious clubs among the other clubs at the University of Asia Pacific. She also added that students should enhance their soft skills.
Mr.Tareq Khan, Assistant Director of the Directorate of Students' Welfare, University of Asia Pacific, was also present there as an guest. He praised UAPLPC for arranging such a beautiful program and he thanked them as well. He shared his two sweet memories with them and at the end of his speech, he told the students to always have a kind heart, to be an ideal person and many more. He added that if anyone faces any kind of issue, they may contact him. The Public Relations Officer of UAP, Mr.BachchuShekh. There were honorable faculty members in attendance, including AzizunNahar (Assistant Professor, UAP) and FarzanaAkter (Lecturer, UAP).Ashim Roy and Mahbubur Rahman of DAO of UAP Law were present at the event.
After that, Shahriar Islam Shovon, President of UAPLPC, said that the objective of the program was to cordially welcome the new batch of the Department of Law and Human Rights of UAP. He also added that, because of the current situation, the university campus remains closed. That's why we can not welcome them to the UAP Campus.
To promote creativity via photography, sharing and criticizing the photos of peers, educating and improving technical abilities, and spreading a passion for photography across the community, The UAP Law Photography Club (UAPLPC) is committed to growing a photographers' community among the students of UAP, Department of Law and Human Rights. UAPLPC's mission is to promote, support, and enable members to pursue and achieve national and global recognition and awards both as a club and as individual members of the organization.
UAPLPC started its journey with the aim/mission of building up a photographer's community in the Department of Law and Human Rights. In this short time, this club has arranged a number of workshops, a photo contest and an exhibition. Even in this lock down, this club is safely ensuring all the club activities through online. Every Friday they broadcast a live session titled "Friday Photo Adda" to alleviate students' mental exhaustion. The full program was hosted by Mohammad Asif, Program coordinator of UAPLPC.