Webinar on "How to write or apply for a high impact academic article" Organized by IEERD, University of Asia Pacific
The Institute for Energy, Environment, Research and Development (IEERD) of University of Asia Pacific (UAP) organized an online based webinar titled "How to write or apply for a high impact academic article" on 17 August 2022, at 7:30 pm.
Professor Ts. Dr. Md. Mustafizur Rahman, Consultant, Researcher, Faculty of Engineering, University of Malaysia, Pahang (UMP), Malaysia, and Former Dean of Research, UMP, Malaysia, was the keynote speaker at the webinar. Professor Dr. Md. Sultan Mahmud, Pro-Vice Chancellor of University of Asia Pacific, gave the welcome address. Participants in the webinar included the UAP Chairman, Dr. Mohammad Alauddin, BOT, Prof. Dr. Mohiuddin Ahmed Bhuiyan, Treasurer, Professors, Associate Professors, Assistant Professors, Lecturers, and Master's level students from nine departments, as well as Dr. Irin Dewan, Director, IEERD.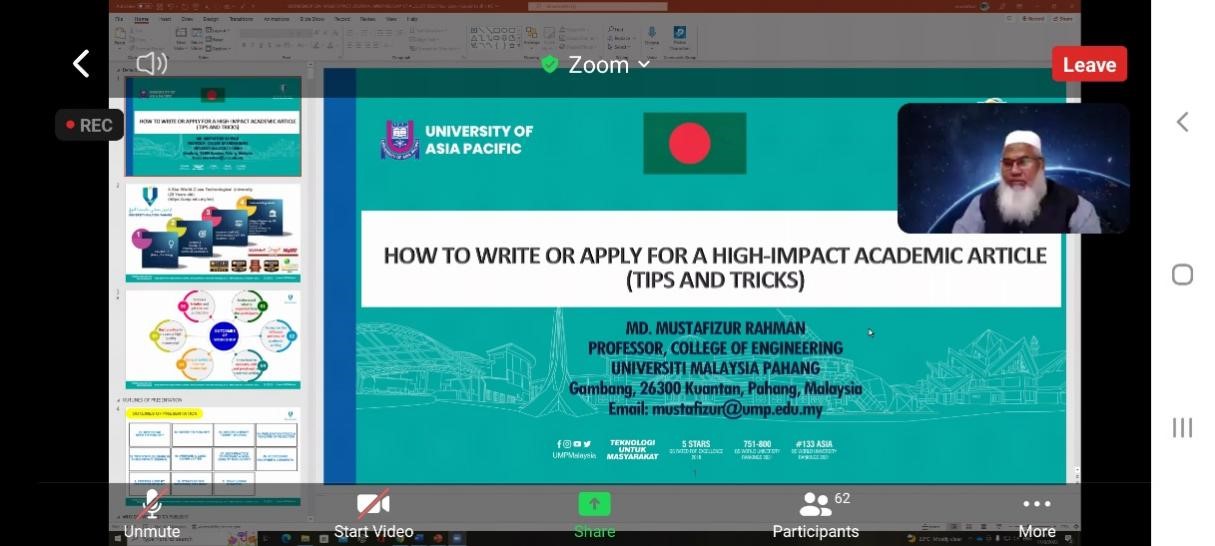 In his address, the keynote speaker highlighted the approaches for creating a research paper and how to have it published in Web of Science Index, Scopus Index, Journal Non-Index, Book Chapter, Conference Scopus Index, Non-Index, Google Scholar, Elsevier, Clarivate, etc. In addition, this seminar discussed important subjects such as picking the appropriate target journal after adequate planning and research.
The Chairman of the Board of Trustees, Dr. Mohammad Alauddin, expressed his happiness and highlighted the various facets of research studies following three hours of nonstop presentation by a distinguished keynote speaker. He modestly inspired and supported the young researchers and informed every one of the session's future continuances. Dr. Irin Dewan, Director, IEERD, and Associate Professor, Department of Pharmacy, expressed gratitude to the Keynote speaker, Pro Vice Chancellor, Chairman, BOT, Treasurer, all Deans & Heads, fellow Professors, beloved students, the evening host, Faria Tasneem, IEERD office, IT, PRD, and UAP authorities for their contributions to the success of this webinar.